News
Earth Friendly Concrete® by Wagners Combines With AFS Rediwall® For Bespoke Home in West End -

Mar 16 2021
A 500m2, 4 bedroom, 3 bathroom, 2.5 storey residential project underway in Whynot Street West End has embraced the use of PVC permanent formwork system core filled with EFC® for all of the structural walls with winning results.
The AFS Rediwall® permanent formwork system uses patented PVC formwork panels that quickly and easily clip together with less on-site waste to create below and above ground load bearing wall structures. Once assembled, steel reinforcing is installed, and then it is core filled with EFC®.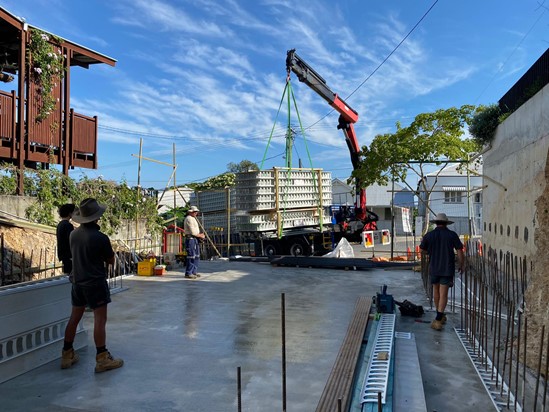 Owners of the property are Gary with his daughter Paris who chose EFC® over ordinary concrete for its low carbon credentials and off-white colour. In addition to the core fill, EFC® is also being used in all the slabs and footings.
"We knew we wanted to use a lot of concrete in this house. We have the footings, two floors of exposed polished concrete and all of the core filled walls. With the environment the way it is and concrete being very high in CO2  we wanted to reduce our carbon footprint", explains Gary. 
Gavin Brown, After Sales Coordinator for AFS Rediwall® shares his perspective on working with EFC®,
"I like it! The way it sits up, moves and responds to vibration, I tell everyone! At first, I was a little bit hesitant about using a new product, but now I'm sold. Everyone at Wagners is very knowledgeable, from the GM, to the drivers, to the on-site product specialists, they have been great to work with".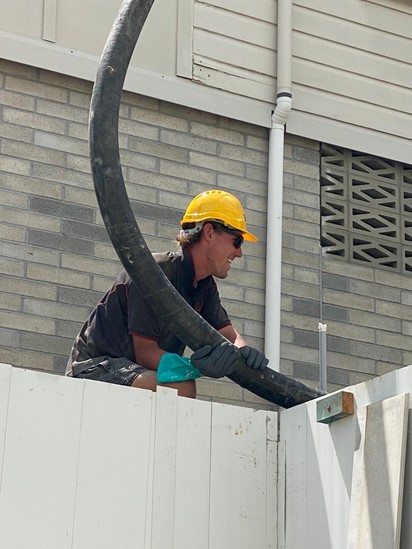 When complete, this architectural designed home will consume more than 150m3 of concrete in its construction, which would normally represent around 55 tonnes of embodied carbon. However, by making the switch to EFC®, the embodied carbon is greatly reduced by 37 tonnes, or roughly 70%.
Builder, Cameron Hamblin, has been operating for 28 years and traditionally builds single storey colonial style homes on acreage in the Darling Downs region. Suddenly thrust into a tight suburban block, modern style house construction, that uses two new generation building materials, has been a steep learning curve.  
"It's been a new experience for us, but like anything new, the more you use it the more normal it becomes. The back-up support from Wagners staff has been terrific."
If you are interested in trying Earth Friendly Concrete® for your next project
, please email
sam.kelly@wagner.com.au
or call 0428 611 349